SmartFace
Plug & Play Face Recognition
SmartFace is a high-performance, scalable, face recognition server platform able to process multiple real-time video streams in parallel. Leveraging Innovatrics' industry-leading algorithm, SmartFace allows system integrators to easily incorporate face recognition into their solutions.
Rapid deployment, with no biometric skills required.
Save time and cost. Developed listening to requirements from the field, SmartFace solves the typical problems associated with face recognition SDKs such as lack of specialist biometric expertise, long integration times, and problems working with video files, multiple IP camera streams. SmartFace is by design easy to integrate, potentially saving hundreds of man-hours and dramatically shortening ROI periods.
Use Cases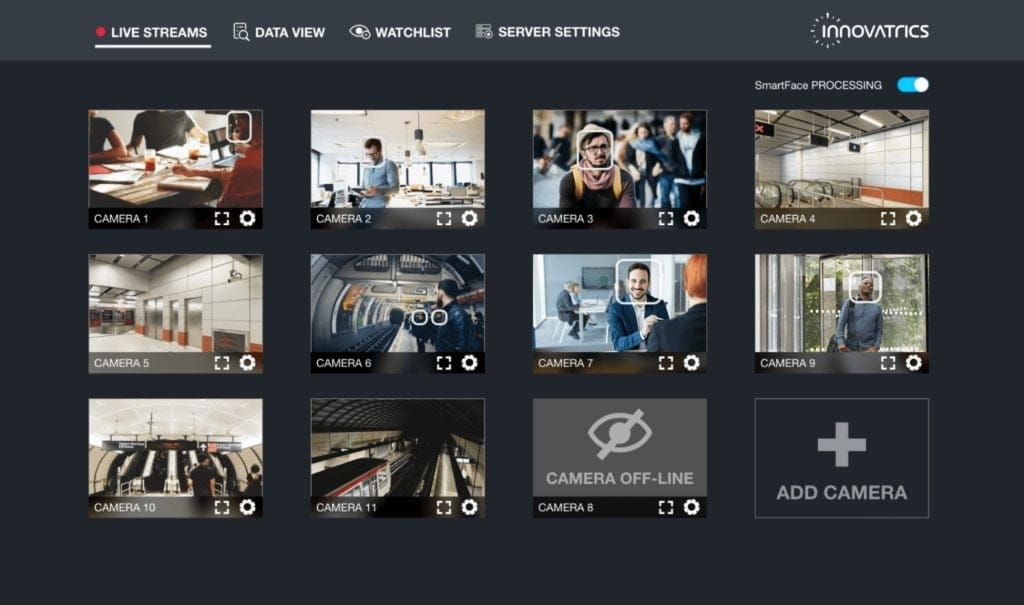 Security and Surveillance
Real-time facial identification
Monitor large groups of people and rapidly identify potential security threats at airports, public gatherings or sports arenas using real-time face detection and blacklist check.
Multiple watchlists
Blacklist monitoring
Multiple face detection and tracking
Access control
Constant people and property protection
Provide a safer environment for your employees and visitors by using facial biometrics to control access and accurately monitor individuals on your premises.
Seamless access
Real-time identification
Multiple face detection and tracking
Retail analytics
Marketing data collection for the retail sector
Carry out comprehensive analysis of in-store customers
using facial biometrics to provide demographic information.
Easily analyze how many people enter retail premises, time
spent in-store, gender split, age demographics, and much
more. Build up a profile of customers and calculate visit
frequency, conversion rates, seasonal trends, and outliers.
Statistical analysis
Unique visitor counting
Age & Gender detection
Loyalty programs
Improved VIP customers experience
Improve your VIP customer experience utilizing facial recognition. Identify the key clients and customers immediately after entering your premises and provide them with special services. Automatically create lists of
return customers and reward the right ones accordingly.
Real-time identification
Dedicated VIP watchlist
Real-time notifications